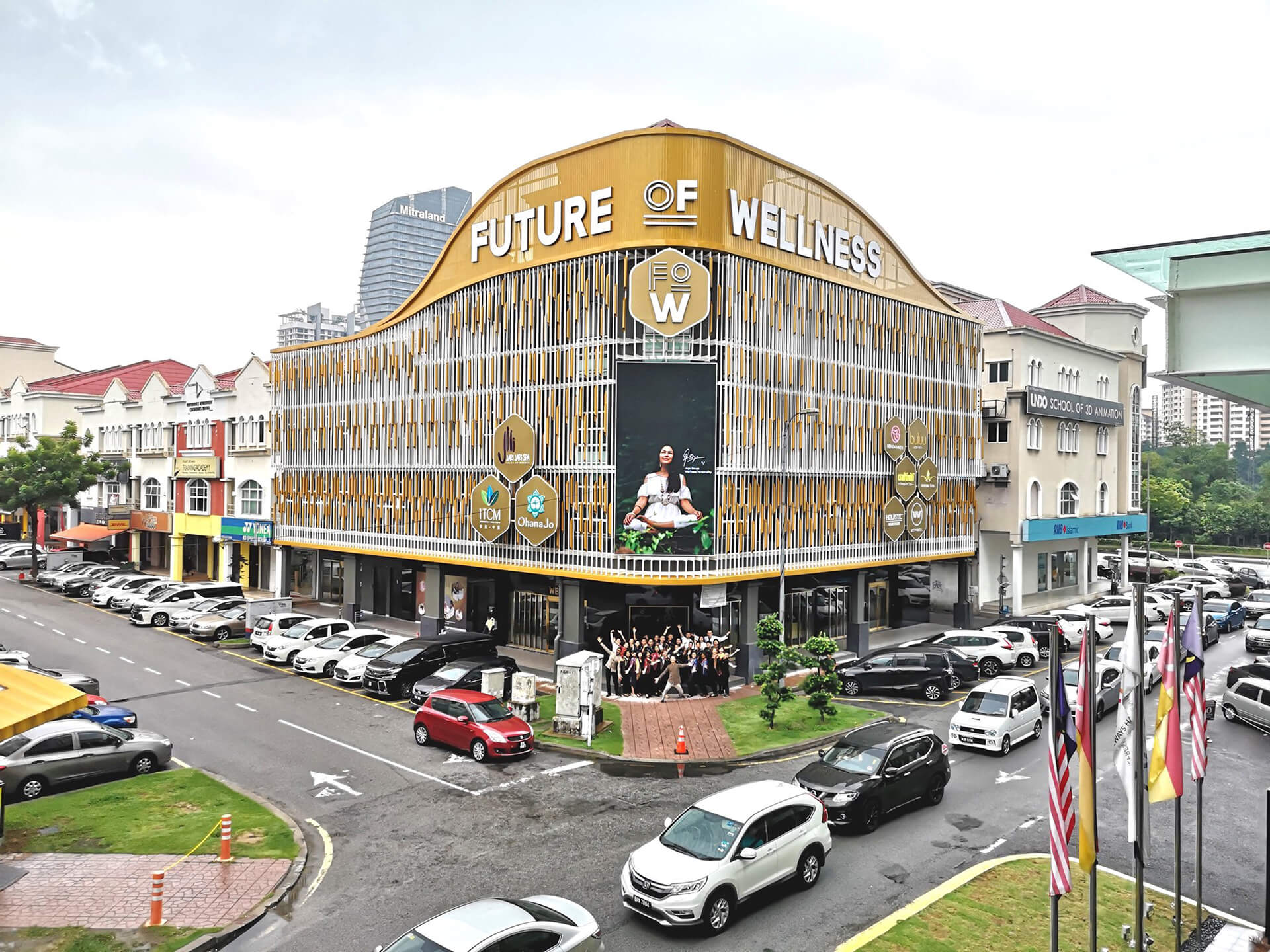 Located in the heart of Kota Damansara, the Future of Wellness (FoW) hub is the city's hearty sanctuary that houses all you need to slow down and regain balance. As its origin story goes, its founders envisioned a multi-tenanted unit of several different services to cater to the human body's well-being and self-care.
H Space came into the picture by creating a spatial experience for visitors' movement flow. Within a 3.5-month design and build process, we've successfully put together one of Malaysia's most high profile integrated wellness hubs with a flexible layout, catering facilities that'll be able to adapt to changes in the industry.
The Future of Wellness constitutes 23,000 sqft with 3.5 floors, hosting over ten prestigious brands with health and wellness backgrounds. Its design concept is based on the journey of someone experiencing the feeling of rejuvenation, revitalization, and rebirth.
The grand and luxurious lobby designed by H Space surrounds its visitors with a feeling of calm anticipation as soon as they step foot. The staircase built with bamboo fixtures on the walls and dim lighting act as a cleansing path and a walkway to tranquility.
Each floor is designed in a way that'll soothe guests from a busy and hectic day, allowing them to let go of their insecurities and tiredness. With scents of fresh mint and eucalyptus-infused in the air, guests will feel reborn, making them ready to face the world with a boost of positivity and freshness upon stepping out.
The Future of Wellness hosts wellness brands that range from an award-winning day spa with twenty-three therapy rooms, facelifting services, manicure and pedicure stations, a waxing parlor, breastfeeding rooms, a sound healing center with a sacred healing dome, a fitness studio, a wellness-themed coworking and event space, and a cafe. The available medical facilities also include an aesthetics and skin regenerative clinic, and a center that offers traditional Chinese medicine treatments.
The lobbies and common areas on each floor serve as a communal set up with ample room to maintain your productivity during any downtime, shifting from one busy hour to another. H Space also provides a 24/7 fingerprint access with security around the clock for all FOW staff and personnel.
FOW's integrative wellness experiences are aimed to foster self-care, mental and physical health, and also the body's emotional wellbeing. You can learn more about the Future of Wellness by visiting their website here.